Welcome to our Mammoth Motorhome Project website.
We are converting a Domino Tourmaster (DC122) interstate coach into a top-notch motorhome.
We thought it would be fun to convert a coach into a motorhome. After all we thought it would take us about 12 to 18 months to complete.
Just take the seats out and cleanup the inside and start the fit-out. (Fit-out is the process of building in the beds, shower, W.C., kitchen, solar panels, etc...).
Over five years into the project and we are not finished yet. And now we have run out of money.
See what happened look into our History. Our current progress is found in our 'This week' and 'Last week' pages.
---
We started on 9 July 2004.


After 5 years

A small transformation?


5 years into the project it looks like this -->
It is a Domino Tourmaster (DC122). It has:
Built: 1978
Engine: GM 8V71. This is a diesel 2-stroke V8 GM
Gearbox: Spicer 6 speed manual
Rear axel: Rockwell with 4.11 diff ratio
Front axel: Rockwell
Suspension: Air bags
Aircon: Had KingAir air con, will have two split systems
---
Due to rust we stripped it back... a little...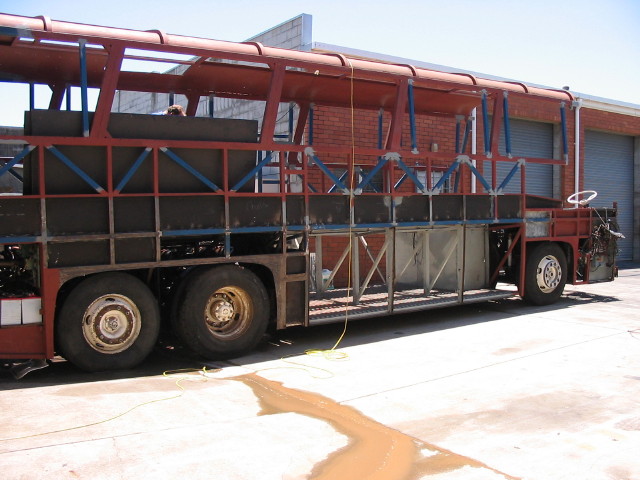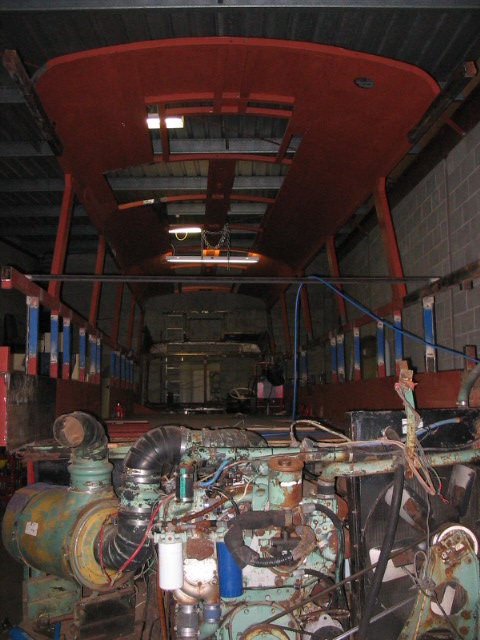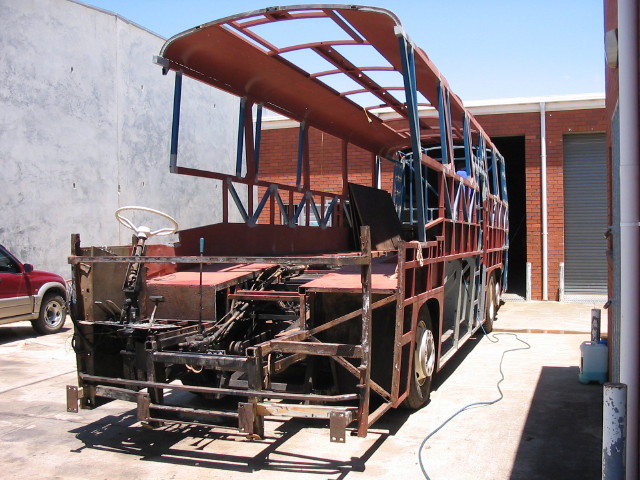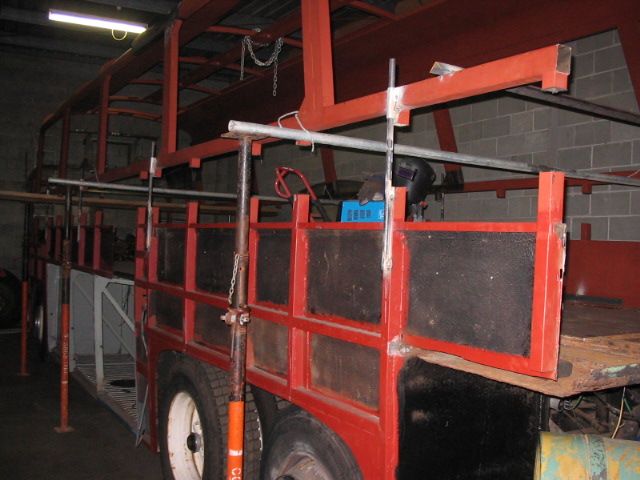 ---
Why did we choose this vehicle?
It looked in good condition, but this is very hard to judge with the inside and outside skins on.
Mechanically, it has not done much work. It was bought by Starliner in 1978, but they sold it to the "Transport Training Centre" in Adelaide about 10-15 years ago.
As a training vehicle it did not have passengers and would not have driven many kilometres. Of course the gearbox would get a beating! However, before they sold it they reconditioned the gearbox. We are also told that the engine has been reconditioned, but we have not yet been able to verify if that is true.
When the driving license law changed the training centre did not need this coach, so they offered it for sale to their employees as first pick.
One of them was the mechanic and his parents had in the past converted a Bedford into a motorhome and had holidays with it. He thought this would make the perfect Motorhome for them. They agreed and bought the coach in 1999.
The new owners had grand plans for there new motorhome. Unfortunately most of their adult kids moved to other states in Australia and the coach just sat there. After 5 years they realised that they would not convert this coach into a motorhome and reluctantly put it up for sale.
Parked along a quite road, it sat there with plenty of people interested, but they either did not have the money or daring to take on this mammoth project.
One day a friend from work, Scott, drove past and told me this coach was for sale.
Zac and I looked and looked and eventually I bought it. My wife was very apprehensive to say the least. "There goes our house deposit savings!", she said.
And the rest is . (Click here to continue with the story)
See the current state of the Motohome here... 'This Week' and 'Last Week'
---
NEWS
See This week for NEWS...
---
About Us
Sadly Zac moved to another part of queensland and at this stage is no longer involved in this project. Maybe one day he'll be back.

Zac is the experienced one. He has converted a number of buses and coaches into mobile workshops and motorhomes. He has also help numerous people with their conversion projects.
He has lots training and experience in many areas, such as, solar power, power management, motorhome design, and much more.
Peter is the novice. This is his first motorhome conversion project but maybe not his last.
He, too, has some training and experience, but then he is not as old as Zac. ;-) This includes electronics and software development. Oh, and he created and maintains this web site.
---
Contact Us
For comments etc... related to the Mammoth Motorhome Project please email the webmaster.
---
Links
If you would like your link here, send me your details.
Campervan and Motorhome Club of Australia.
With over 50,000 members! http://www.cmca.net.au
Motorhomes Australia - the resource website for motorhome and campervan owners and enthusiasts. http://www.motorhomesaustralia.net/
Specialising in unique, quality accessories designed to improve your RV'ing experience.

http://www.peninsulamotorhomes.com.au
Hobohome the Australian motorhome (and her crew) have been travelling Australia since 2003.
This site features stories and photos from their adventures.
Motorhome Conversion the story of our conversion.
Follow Bill's adventure as he converts his coach into a luxury motorhome for two.